Copy Project and Project Templates
Copy Project allows you to duplicate a project with all its tasks and sub projects.
When you have repeating processes that need setting up similar tasks, you can use Copy Project to create Project Templates.
How-to
In Edit Project click on Copy Project at the bottom of the window:

You can select which elements of the project to copy:
tasks, recurring tasks, the custom fields values in the tasks and sub-projects.

Dates:
On copy project you can move the tasks dates (start and end dates) relative to the project start date.
Or you can set the number of days to move the tasks dates manually.
You can select not to move the dates, then the tasks will be copied with the original dates.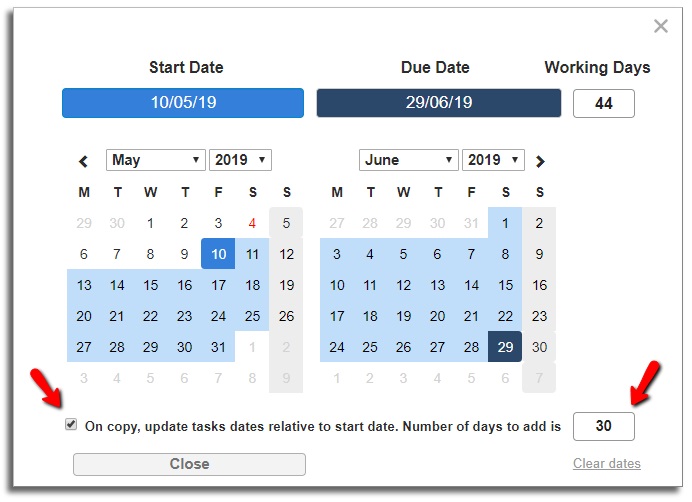 Information
Only Premium accounts can use Copy Project.
No notifications will be sent on copy project.
On copy tasks the following elements will be copied: files, involved users,task emails list (but will not send emails on copy), Contacts, list of users that read task and all sub tasks will be copied.
All copied tasks will have an Open status.
Only the first description of a task will be copied (will not copy other comments).
All tasks dependencies (from Gantt) will be copied, but only if both tasks are from the same project
On sub projects copy, will copy access users and project contacts for every sub project.
Will not copy project meetings or sub tasks of meetings.
Project Templates
When you have repeating processes that need setting up similar tasks and sub-projects, duplicating a project is a great solution.
Create a new project named "Templates".
In your "Templates" project, create another Sub Project that will be your template.
A good practice will be to give it a name with the word "Template" in it.
In your new template project create tasks and sub projects, you can assign tasks to owners, set priorities and dates.
You can use your template by duplicating the project.
You can change your new project location in the project tree by dragging it to a new location.
We hope this article has been helpful.
Please don't hesitate to contact us if you have any questions support@teamdoapp.com